Update Notes October 5. 2023
The latest update came with minor bug fixes and usability improvements. Some convenience features were already available as feature previews in the last months, while we improved the usage with keyboard and screen reader.Thank you to our early adopter customers and their feedback.
Comfort functions for faster working
Comfort functions for creating issues are now generally available. Issues can be created directly from the test step overview.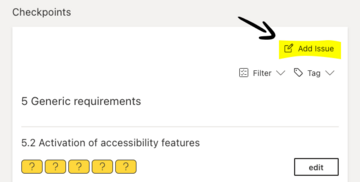 After creating an issue, it is easier to get back to where you started.

The most important new feature is the new assignment of issues to test steps. You can now specify or change which test step the issue belongs to directly when you record an issue. The modal box is searchable so you can find the right test step quickly and easily.
Keyboard shortcuts in editor tooltips

Keyboard shortcuts for the formating options in the text editor are now displayed directly in the tooltips of the editor. A small but hopefully helpful change.
More information on key combinations of the text editor.
Changelog 2023-09-13
New

:

CAATS-153 release new issue workflow

New

:

CAAT-1240 apply sample filter to "open all samples" button

New

:

CAAT-1167 show keyboard shortcuts in RTE

Bugfix

:

CAATS-154 fix creating samples with images

Bugfix

:

CAAT-1241 don't close filter menus on selection